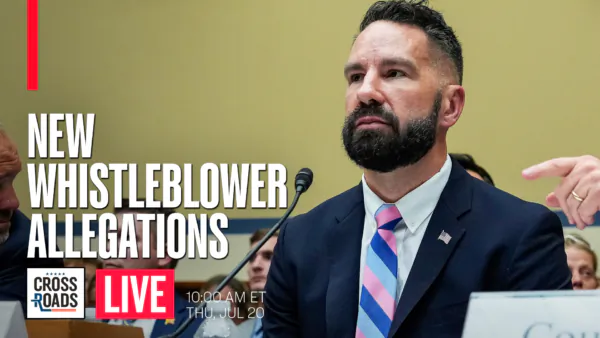 An IRS whistleblower revealed new allegations on Hunter Biden and the Biden family, regarding the ongoing investigations into influence peddling. The testimony was given before the House Committee on Oversight and Accountability. Among the new testimony were more details on WhatsApp messages from Hunter Biden, which allegedly were not disclosed to Congress before. In this live Q&A with Crossroads host Joshua Philipp, we'll discuss this story and others, and answer questions from the audience.
About the show
It's easy to get lost in the daily news cycle, with its constant barrage of headlines and updates. What's often missing, however, is a broader and deeper analysis of what's behind the headlines. "Crossroads," hosted by Epoch Times senior investigative reporter Joshua Philipp, is an opinion and analysis show that presents deeper insights into the news cycle, culture, and society. It connects current events with history, ties various news stories together with analysis and opinion, and goes beyond the headlines to present a clearer picture of what's happening in the world.
About Joshua Philipp
Joshua Philipp is an award-winning investigative reporter with The Epoch Times and host of EpochTV's "Crossroads" program. He is a recognized expert on unrestricted warfare, asymmetrical hybrid warfare, subversion, and historical perspectives on today's issues. His 10-plus years of research and investigations on the Chinese Communist Party, subversion, and related topics give him unique insight into the global threat and political landscape.