Angel Studios' anti-people trafficking movie, "Sound of Freedom," has earned nearly seven times its original budget after only two weeks at the box office.
Shedding a light on a dark, shadowy world—especially child sex trafficking—the film's commercial success comes years after its production, surviving a corporate merger, the COVID-19 pandemic, and reports of several screenings gone awry.
The picture owes a lot to two men who wanted everyone to see it—the producer and co-star Eduardo Verastagui and president of Goya Foods, Bob Unanue.
Opening on July 4, "Sound of Freedom" just surpassed $100 million at the box office, $85 million of which came from domestic theaters. It was made on a $14.5 million budget.
Starring Jim Caviezel ("The Passion of the Christ") as former Homeland Security Agent and Operation Underground Railroad founder Tim Ballard, the movie is a call-to-action that tells the true story of how hundreds of people were rescued from human trafficking.
It saw an increase of more than 30 percent in audience attendance in its second week, and more than 10,000 verified audience members have contributed to its 100 percent audience score on Rotten Tomatoes.
It also continues to compete with mainstream movies with much lighter and more entertainment-focused subject matters and much higher budgets.
But this successful movie might not have ever seen the inside of a theater without the help of food giant Goya Foods.
"Sound of Freedom" had originally been ordered by 20th Century Fox with Mr. Verastagui already on as its producer and supporting role.
But the movie became one of the many Fox projects shelved after the merger with The Walt Disney Company.
"We helped him buy ["Sound of Freedom"] from Disney [and] became executive producers on that," Mr. Unanue told The Epoch Times in a phone interview. "It just so happened that several years later trying to get it distributed that Angel Studios appeared on the scene."
Goya did not disclose the amount of money it contributed to the project.
The film was completed before the COVID-19 pandemic. But despite Disney releasing the rights, that theater-closing event would require its producers to wait a little bit longer.
Angel Studios acquired the distribution rights in 2023. He said Angel Studios was "a godsend" in turning around the movie for theatrical release in "just a few months." Now, he said, they are in talks with Mel Gibson to do a series on human trafficking.
Caring About Victims
Tied to the completion and distribution of "Sound of Freedom" is the creation of Goya Cares, Mr. Unanue's own program, which provides support to several nonprofits fighting child and human trafficking.
Working primarily on the homefront, it supports several charities already entrenched in the fight to end trafficking and provide safe houses for victims, such as Catholic Charities and the International Center for Missing and Exploited Children (ICMEC).
It also works with the Monique Burr Foundation to provide lesson plans and educational awareness in schools.
"At the center of Goya Cares is a heart, and our heart reaches out to these victims of child trafficking and children who are suffering from mental illness so that they may have hope to live in a world where their life is valued, their freedom is a reality and their mind is at peace," Mr. Unanue's mission statement for the program states.
"They need to be reminded that they are precious gifts from God."
While the movie tells the story of international intervention, Mr. Unanue focuses the efforts of Goya Cares on the homefront.
He criticized the Office of Refugee Resettlement, which couldn't answer a House Oversight Committee's questions over the 85,000 unaccompanied migrant children who have gone missing at the southern border over the past two years due to "flawed vetting of sponsors."
"Who are these sponsors," he asked, saying people will "take these kids and photograph them for pornography. They'll sell them for sex. They'll sell them for slavery. There's so much money behind it."
Mr. Unanue also sees the family unit as a crucial front in the fight, stating that successful trafficking relies on being able to alienate and isolate the victims from their families and friends.
They're recruiting in the schools, he said, to find vulnerable kids of whom they can take advantage. And he sees that it's not hard to find a family that's "kind of broken" nowadays.
"There's not enough money in the world [to fix this problem]," he said, noting the industry's projected $150 billion–$250 billion status.
"The cartels have all of the money. We've got to get our families back together and care for each other. Mother Theresa said we're one of the wealthiest countries in the world, but we're morally bankrupt."
"My hope is that the Latinos who hold the values of God, family, and country are the future of this country and will bring us together."
Technical Difficulties
Meanwhile, the film's success has not been without controversy.
People who recently went to see the movie reported technical difficulties. The most commonly reported on social media have been broken air conditioning, electrical failure to dim the projection room lights, and failure to play sound.
Videos taken during the interrupted screenings also showed AMC staff offering free movie vouchers if they left midway or at the very beginning of the screening.
Yet, in every scenario where the film continued to play through, audience members remained seated and undeterred.
These moviegoers grabbed the attention of Angel Studios. The company released a statement on July 13 denouncing the rumors and asking its fans to show support for the theaters and kindness to the staff.
"We understand there are rumors—predominantly in social media—that AMC theaters have made it difficult for fans to see 'Sound of Freedom' in local AMC theaters, and we want to make it clear these rumors are not accurate," said Brandon Purdie, Head of Angel Theatrical Distribution.
"AMC has been an outstanding partner for Angel Studios, and in fact, as a result of the movie's performance and consumer demand, AMC has agreed to add additional screens for 'Sound of Freedom' this weekend."
Adam Aron, AMC's CEO, has personally denied the allegations in a statement on Twitter. AMC did not respond to The Epoch Times' request for further comment.
'Good is Always Attacked'
Before the technical difficulties, there were the critics' reviews. Rotten Tomatoes gives "Sound of Freedom" a 76 percent critics score and a general consensus that it is "an effective and suspenseful call to action against human trafficking."
But it also states that the film is "not free of issues in its depiction of the sensitive subject matter."
"Sound of Freedom" has been specifically criticized in the media for Caviezel's alleged connection with Q-Anon and for creating a dramatized, false, race-based perception of human trafficking, especially child sex trafficking.
Mr. Unanue told The Epoch Times he believes there is an attempt to "sabotage" the picture. He spoke of a recent incident where his own viewing in New Jersey was interrupted by an allegedly fake fire report. He clarified that this was a regularly-scheduled screening open to the public.
But he is no stranger to pushback from the mainstream. He led Goya Foods through threats of boycotts after he came out in support of former President Donald Trump, whom he still openly supports for the 2024 election.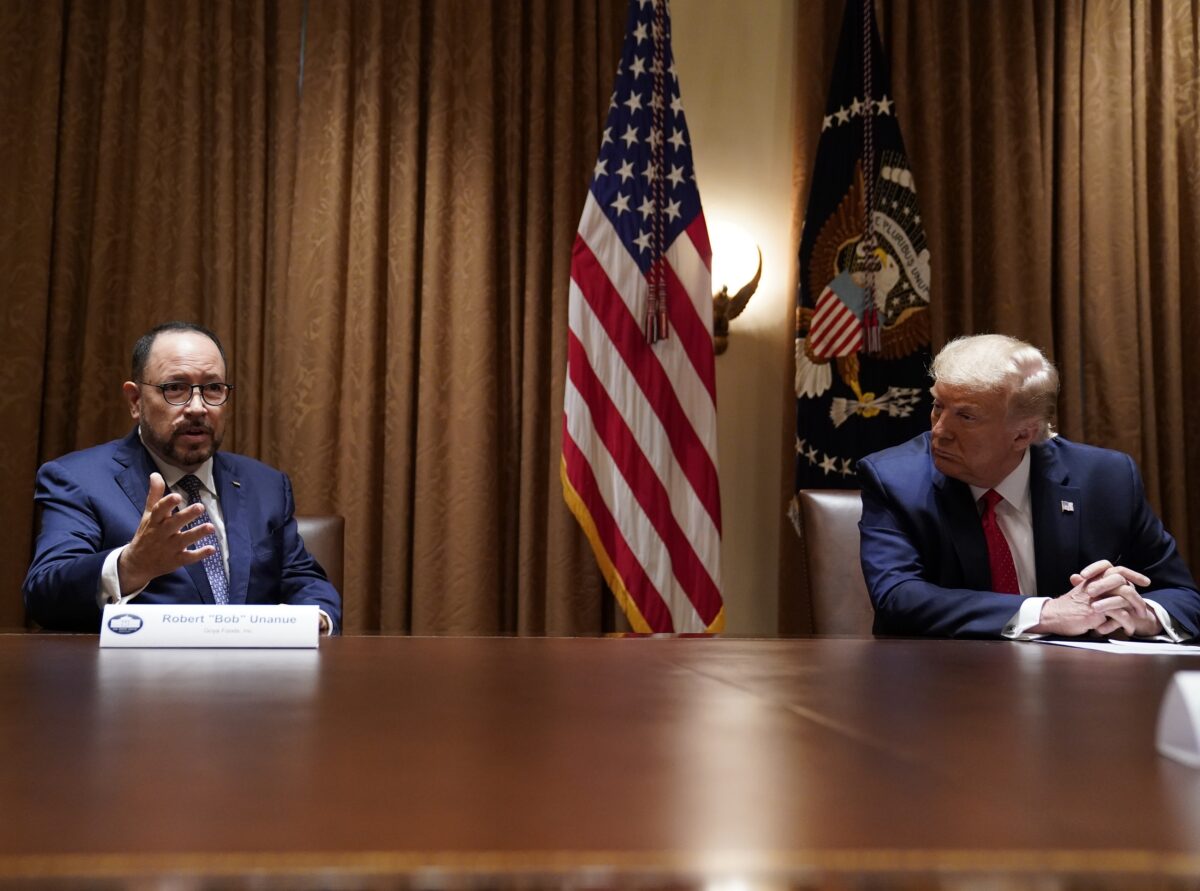 "Anything that's good is always attacked," he said in a phone call with The Epoch Times. "The faithful are always persecuted, so it's par for the course. But there's no stopping this thing [movie]."
"Sound of Freedom" is currently playing in more than 200 theaters across North America, including Cinemark, Regal, Cineplex Cinemas, Megaplex Theatres, the National Association of Theater Owners, and the Independent Cinema Alliance.