House Lawmakers voted on July 19 to pass a bill banning public K-12 school facilities from being used to provide shelter for immigrants who entered into the United States illegally.
H.R. 3941, also known as the "Schools Not Shelters Act," was introduced earlier this month by Rep. Marc Molinaro (R-N.Y.) in an attempt to prevent New York Governor Kathy Hochul from housing immigrants in SUNY college dorms or K-12 schools in Upstate New York.
The bill passed the lower chamber in a 222-201 vote on Wednesday, with four Democrats joining all Republicans to vote in support of the legislation.
Under the legislation, the facilities of a public elementary school, a public secondary school, or an institution of higher education are strictly prohibited from being used to provide shelter for aliens who have not been admitted into the United States, and for other purposes.
Schools or higher education institutions that fail to comply with the bill and provide shelter to illegal immigrants who have not been admitted into the United States risk losing federal funding.
However, the bill does include an exemption for short-term sheltering made necessary by a "specified disaster," such as forest fires, flooding, hurricane, tornadoes, and other natural disasters like droughts for which a disaster declaration is issued by the federal government or a state.
The bill also applies to schools in the District of Columbia, Puerto Rico, the Virgin Islands, Guam, American Samoa, and the Commonwealth of the Northern Mariana Islands.
In a statement after the legislation was passed, Mr. Molinaro, the bill's author, said parents across New York have repeatedly raised concerns about public school gymnasiums being used as shelters amid an influx of illegal immigrants.
NY Residents, Immigrants 'Deserve Much Better'
More than 90,000 illegal immigrants have arrived in New York City since the spring of 2022 —the majority entering from the U.S. southern border— overwhelming the city's homeless shelter system.
Last year, city officials said they had begun to use emergency hotels to handle what they said were "unprecedented levels" of illegal aliens entering the city.
Amid the ongoing crisis, some states, such as Broome County which has an extremely limited amount of housing, have declared a state of emergency over the potential relocation of the immigrants from New York City to the county.
"As the parent of four children, I agree and share the concerns of mothers and fathers who have spoken out against housing migrants in schools," Rep. Molinaro said after the vote. "My bipartisan bill affirms two things: First, schools are places for academics, athletics, community services, and places where children like mine receive vital therapy. They are not migrant shelters. Second, we should be dealing with the migrant crisis in a compassionate way."
"There is nothing compassionate about bussing migrants from the southern border, to New York City, and then to Upstate New York. All to live in an area they're unfamiliar with and in schools that are ill-equipped to serve as migrant shelters," the lawmaker continued. "Our children, Upstate New York residents, and the migrants seeking a better life deserve much better."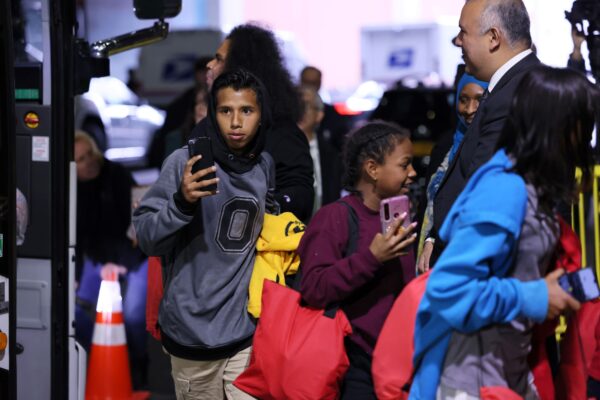 Biden Condemns Bill
Other New York Republican lawmakers, including Rep. Nicole Malliotakis who co-authored the bill, said the legislation was needed in part due to President Joe Biden's border policies and Mayor New York Eric Adams's incorrect interpretation of the city's "Right to Shelter" law.
"The problem is, if you look at New York City right now, you'll see that there are more illegal immigrants being housed in our shelters than American citizens," Ms. Malliotakis, herself is the daughter of immigrants, said on the House Floor.
"Walk down the street and you see homeless New Yorkers, people who have substance abuse issues, people who have mental health issues, lying on the streets of our city while the Mayor has gone head over heels and done everything possible to house citizens of other countries to chose not to follow the rules, who chose not to follow the proper process," the lawmaker said.
However, the White House said in a separate statement that it strongly opposes the bill and suggested Mr. Biden will veto it, adding that the legislation would "supersede local control, interfering with the ability of States and municipalities to effectively govern and make decisions about their school buildings."
"The bill would do this by prohibiting certain educational institutions that receive Federal funding—including funds that strengthen equal access to education, assist students from low-income families, improve educational opportunities for those with disabilities, and provide access to college—from using their facilities to shelter noncitizens seeking asylum in the United States, as such noncitizens are permitted to do under the law," the White House says.
It is also unclear if the bill will pass the Senate, where Democrats hold a slim majority.